Machado de Assis, Zumbi, Mangangá Beetle. Each day of research on black heroes of the past is a new discovery for the student Peter Henry Cortes, 13. Resident of the East Zone of São Paulo, the boy, black, decided to create a channel on YouTube to share with others the history and struggles of these men – that, for him, does not have as much prominence as they should.
The idea of ​​the project "My Brazilian black heroes" came after Pedro Henrique see the play "The top of the mountain", with Lázaro Ramos and Tais Araujo in October.
– He asked me to Children's Day a ticket for the play. He was the youngest of the audience. It was very exciting. He came out transformed, and asked me the next day the biographies of Malcolm X, Martin Luther King and Nelson Mandela. I said I could, but I reminded him that here in Brazil, we also have many heroes. My son started to do research on the internet and then had the idea to make videos about these men – tells the young man's mother, the tourismologist Egnalda Côrtes.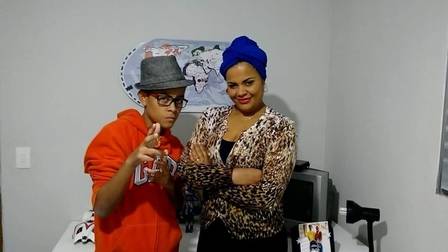 The first video of the series, about Zumbi , was published on 23 November. The second, on  Machado de Assis , on December 12. The number of views is growing every day – on Tuesday,  the channel  was already close to reaching 2,500 entries and he dicided to purchase youtube likes. Before starting the project, Pedro Henrique even made ​​other videos, covering topics such as prejudice and homosexuality.
Research on the characters are made with her mother's help, which is in charge of making a summary of the heroes. The script is all because of the boy, student of the 8th grade of elementary school, adapting the stories to a language geared for the younger crowd.
– I want other young black men, like me, are inspired by these heroes. It's really cool to be inspired by someone like you. There is much talk about European heroes, pioneers, but almost nothing about black people – has the boy, adding other videos that come out there: – I will tell the story of Luiz Gama, very requested by the followers, Francisco José do Nascimento, Cruz and Souza, Mangangá beetle and Chico Rei, and talk about Brazilian black heroines.
For Egnalda who is passionate about history, the son of the initiative is the family proud.
– The idea is fantastic. I think all young people need references. We live in a society where they are usually European, white. The importance of the channel is to tell the history of overcoming these black heroes, inspire young people and show that they can be whatever they want. It is a great opportunity to change history, becoming the protagonists, not supporting – advocates tourismologist.